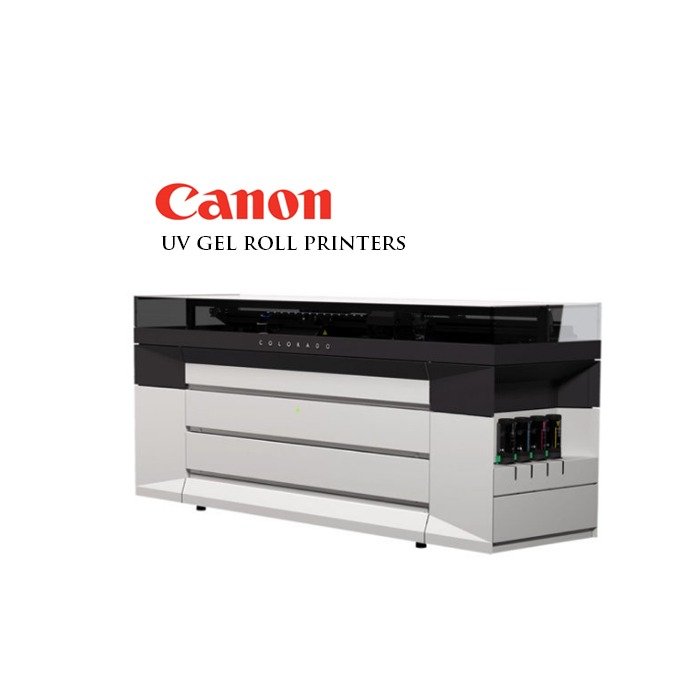 Latest Technology UV Gel Roll Printers
Canon UV roll printers are Large Format Printers that use ultraviolet (UV) technology to cure or dry ink as it is printed onto various materials. These printers are designed to produce high-quality prints on a wide range of substrates, including vinyl, canvas, film, and paper, among others.
UV printing technology uses ultraviolet light to dry or cure ink almost instantly as it is printed. This allows for faster production times and eliminates the need for additional drying time or processes. The resulting prints are more durable and resistant to fading, scratching, and weathering.
Applications and Uses of Canon UV Roll Printers
Canon UV roll printers are commonly used in various applications, such as indoor and outdoor signage, wall decorations, floor graphics, vehicle wraps, and backlit displays. They offer high printing speeds and precision and are able to print on a variety of media sizes and types.
Common Gel Roll Printers available
The Wide Format Printer Suppliers in Dubai have a wide range of printers available to meet your printing needs. Some of the popular Canon UV roll printers include the imagePROGRAF PRO-1000, imagePROGRAF PRO-4000, and Océ Colorado 1640, among others.
Best Indoor Banner Printer Océ Colorado Series UV Gel Printers
The Océ Colorado Series UV Gel Printers feature roll printing equipment ideal for creating large-format indoor banners, exhibit displays, architectural and directional signage, event signage, and more. These large format UV gell roll printers provide full-bleed printing capability that eliminates the extra finishing steps of trimming prints.