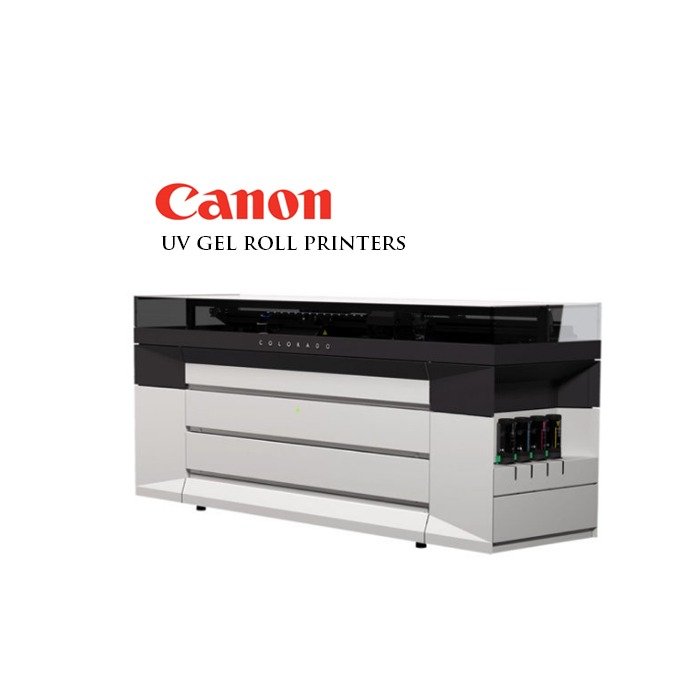 Latest Technology UV Gel Roll Printers
Canon UV roll printers are Large Format Printers that use Ultraviolet (UV) Printing Technology to cure or dry ink as it is printed onto various materials. These printers are designed to produce high-quality prints on a wide range of substrates, including vinyl, canvas, film, and paper, among others.
UV Printing technology uses ultraviolet light to dry or cure ink almost instantly as it is printed. This allows for faster production times and eliminates the need for additional drying time or processes. The resulting prints are more durable and resistant to fading, scratching, and weathering.
Applications and Uses of Canon UV Roll Printers
Canon UV roll printers are commonly used in various applications, such as indoor and outdoor signage, Wall Decorations, floor graphics, vehicle wraps, and backlit displays. They offer high printing speeds and precision and are able to print on a variety of media sizes and types.
Common Gel Roll Printers available
The Wide Format Printer Suppliers in Dubai have a wide range of printers available to meet your printing needs. Some of the popular Canon UV roll printers include the ImagePROGRAF PRO-1000, imagePROGRAF PRO-4000, and Océ Colorado 1640, among others.
Best Indoor Banner Printer Océ Colorado Series UV Gel Printers
The Océ Colorado Series UV Gel Printers feature roll printing equipment ideal for creating Large-Format Indoor banners, exhibit displays, architectural and directional signage, event signage, and more. These large format UV gell roll printers provide full-bleed printing capability that eliminates the extra finishing steps of trimming prints.
Key Features of Canon UV Roll Printer
Canon UV Roll Printer is designed to meet the diverse needs of professionals across industries. Whether you're a graphic designer, photographer, advertising agency, or print shop, the Canon UV Roll Printer will empower you to unleash your creativity like never before.
UV-Curable Printing Technology:
Experience stunning, high-resolution prints with vibrant colors and sharp details, thanks to the UV-curable ink system. This technology ensures long-lasting, fade-resistant output on a variety of media, including rigid and flexible materials.
Wide Color Gamut:
Achieve true-to-life color reproduction and expand your creative possibilities with the printer's Wide Color Gamut. Captivate your audience with vivid and accurate colors, making your prints truly stand out.
Roll-to-Roll Versatility:
Seamlessly switch between roll-to-roll and flatbed printing modes, offering flexibility to handle various types of projects. From banners and posters to signage and decals, this printer has you covered.
High-Speed Performance:
Boost your productivity with rapid printing speeds, allowing you to meet tight deadlines without compromising on quality. The Canon UV Roll Printer is engineered for efficiency without sacrificing print precision.
Precise UV LED Curing:
The advanced UV LED curing system ensures consistent ink drying and adhesion, resulting in sharp imagery and minimal ink consumption. This translates to reduced waste and increased cost savings.
Variable Droplet Technology:
Achieve smoother gradients and enhanced image details with the printer's variable droplet technology. Enjoy exceptional print quality across a wide range of applications.
Automatic Media Calibration:
Save time and reduce errors with the Printer's automatic Media Calibration feature. Achieve accurate color reproduction and optimal print quality without the hassle of manual adjustments.
High-Resolution Scanning:
Transform physical artwork into digital files with the integrated high-resolution scanner. Capture intricate details and textures for reproduction or editing purposes.
Durable Build:
Designed for durability and longevity, the Canon UV Roll Printer is built to withstand demanding production environments. It ensures consistent performance even during high-volume printing.
 Conclusion:
Experience the future of printing with the Canon UV Roll Printer, exclusively available at Tenaui.com. Elevate your creative projects, streamline your workflow, and achieve exceptional results with this state-of-the-art printing solution. Whether you're producing eye-catching displays, captivating signage, or breathtaking fine art prints, the Canon UV Roll Printer is your gateway to unparalleled print quality and versatility. Contact us today and take your printing endeavors to new heights!